Thanks to Shannon over at
Life After I Dew
, Wednesdays are made for saying So What!! So What Wednesdays give me the permission to spill the contents of my brand of crazy here on my corner of the internet...So, here I go saying So What If...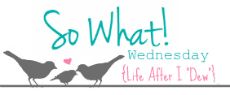 I cannot do it all...I cannot be super women...Admitting it is the first step...right?
I am freaking out about the hubs going out of town next week. Me...two little boys...alone...all week!
I am getting tired just thinking about it!
I don't worry about fat or calories when eating pizza or Mexican. They are the only two foods I don't obsess over calories, carbs, sugar. Mmm...guacamole.
I miss peanut butter...discovered it is a headache trigger...so no more peanut butter...
I am 35 and am not where I expected to be in my career...I am learning it's all about tempering your expectations and being happy.
I am pathetically happy about my first photo credit...Today booked another photography job...yahoo!!
So... this is what I wore to work today...
Skirt-Old Navy/Top-Gap/Cardi-Loft/Jewelry-Target, Francesca's