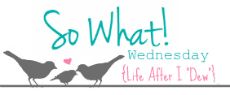 Today is Wednesday...in case you were not sure...I wasn't, I thought it was Thursday when I got up this morning... But, since it is really Wednesday, it must be a SO What Wednesday, thanks to Shannon Dew over at
Life as I Dew
...and now I vent...
SO WHAT IF...
-I am hungry...ALL THE TIME
-I am craving a big greasy slice of pizza... The last time I had a slice my body went into shock and wanted to know what happening to all the clean, fresh, and sugar free food it had been getting used to
-I ate my lunch today in the car...a big sloppy garden burger with all the fixings. It was delicious, but messy evidenced by the mustard stain now on my pants
-I am pretty sure I am having a midlife crisis...at 35...
-My incision and scar tissue lump are swollen and sore..I do not need the extra body issues at the moment
-My whiney, non-appreciative, but adorable non the less, boys are driving be bonkers!
-The flats I am wearing are 1/2 size too big. I have been on the search for the perfect pair of flats and I loved these and they were on super sale....so now they are mine...but the search continues
-The proportions are all off on today's outfit, but I like it!!
Pants-Zara/Shoes-Gap/Top-LOFT/Jewelry-House of Harlow, F21
Thanks for listening...